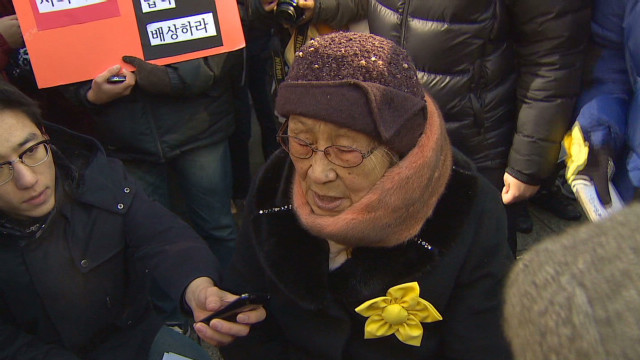 Last Sunday,
Hwang Keum-ja
, one of the few remaining Korean sex slaves of the Imperial Japanese Army ("
comfort women
") passed away in a hospital in Seoul, South Korea. She died of lung and respiratory disease at the age of 89.
Forced into prostitution at the age of 16, Hwang was forced to serve in "comfort stations' throughout World War II in several conquered countries. The life of these women can only be described as a living hell. On duty seven days a week, they were forced to have sex with as many IJA soldiers as showed up at the brothel. Hwang later said that she was unable to even stand up at the end of most weekends. She endured these torturous circumstances for several years before being abandoned in China at war's end.
Making her way back to Korea, Hwang survived by collecting and selling garbage from the streets. Late in her life, she suffered hallucinations about being attacked in her home. She lived a life of great poverty, but this did not keep her from becoming one of the most outspoken advocates for the former sex slaves. Right up to the time of her death, Hwang regularly took part in demonstrations outside the Japanese embassy in Seoul demanding a formal apology from Japan and direct reparations to the individual women. There was precedent for their demands.
Early in the Pacific War, the U.S. government unconstitutionally imprisoned over 100,000 Americans of Japanese ancestry in internment camps. These citizens lost everything they had and had to endure concentration camp conditions for the remainder of the war. Nevertheless, thousands of the young men volunteered to serve in the U.S. armed forces. The army formed them into a segregated regimental combat team, the 442nd was the most decorated unit in the entire U.S. Army.
Later U.S. administrations recognized the horrible injustice visited on these Japanese-Americans. Congress passed a resolution of apology and appropriated funds to compensate the internees in part for their suffering. Today's Americans are appalled that such a thing could have happened in our country. Over 200,000 Korean women were enslaved as IJA "
comfort women
." Only 55 of these women are left alive. Hwang Keum-ja and her sisters are asking nothing more than what the U.S. provided to its internees.
My World War II novel,
Hold Back the Sun
, touches on the IJA sex slave system. A villainous Japanese officer plots to enslave the Dutch heroine as a "
comfort woman
" for causing him to lose face. He could not conceive of a more terrible fate. Neither could I as the author.
Note: Warren Bell is a historical fiction author with two novels released and for sale either for Kindle or in paperback from Amazon.com. Both are set during WWII, with

Fall Eagle One

taking place in Europe, and

Hold Back the Sun

is set in the war in the Pacific.